Posted: Tuesday, March 20, 2018 9:38 AM
---
>
Quick Pitch 4 in 1 Shower Floor Slope Drainage Kit
In stock - Ship Same Day
Buy now at www.FlooringSupplyShop.com
Kit Include:
1 Quick Pitch - 1 Pre Pitch - 1 Kirb Perfect - 1 Weep Hole Protector 1 Center Ring
The Quick Pitch Float Stick Shower Floor Drainage Kit System permits easy construction of shower floors with the proper minimum water drainage slope of 1/4 12" run.
With this time-saving system there is now no chance for an error in measurement, or the need for a level, to achieve a properly sloped shower floor.
Designed for an area where the drain is no further than 36" from any wall or curb.
For larger areas, Extra and Extended kits are available.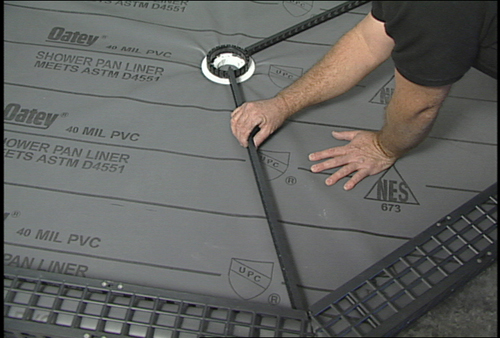 The Quick Pitch Float Stick System uses a Center Ring and tapered Float Sticks to assure the correct drainage slope in standard or custom shower areas with walls up to 6' in any direction from the floor drain.
This shower floor drainage kit system does not add to the waterproofing pre slope as the Center Ring sits on top of the drain flange bolts.
The Quick Pitch Kit is can be used for up to 72 " x 72 " shower areas with a centered drain, or custom shower areas where the drain is within 36" of each wall. Included in each package is one each Center Ring and 6 each Standard Float Sticks 1" to 1-3/4" tape x 36" long) that attach in any of the 24 slots on the Center Ring.
A few simple installation steps, and you're set!
Watch the Video – Pre Pitch English
Our store open to the public
5047 W Jefferson Blvd Los Angeles CA 90016
Mon - Fri 7:00 am - 5:00pm
Sunday 12 noon - 4:00pm
For more product visit our web site http://www.flooringsupplyshop.com
Or call us at 323-731-8453
• Location: Los Angeles

• Post ID: 47241995 losangeles
Play it safe. Avoid Scammers.
Most of the time, transactions outside of your local area involving money orders, cashier checks, wire transfers or shipping (especially overseas shipping) are scams or frauds.
Report all scam attempts to abuse@postfastr.com.